practical life skills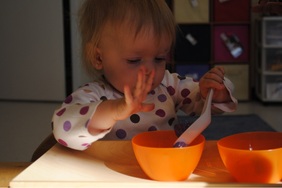 The A.A.I.M.S. Montessori School program has an environment that encourages age appropriate practical life activities. The practical life areas such as organizing and cleaning activities lay the foundation for the introduction to school. Practical life activities such as sponging, moping, sweeping, dusting, polishing, pouring and other home activities connect the home with school. A.A.I.M.S. Montessori School teachers show these practical life activities in a calm, unhurried manner, they act as guides and do not interfere… the child develops confidence and personal independence.
The goal of A.A.I.M.S. Montessori School practical life skills program is to assist the child in developing social skills, personal independence, and respect for self and others. The indirect aim is to develop the child's gross motor and fine motor skills. The practical life activities are unique, purposeful, and simplified to the child's capacity. The repetition of practical life activities bring in a high level of concentration, order, responsibility, independence, accomplishment and respect.

The prepared environment as Dr. Montessori believed is an integral part of a child's development. With the blend of freedom and discipline the child's inner self grows physically, mentally and spiritually. A.A.I.M.S. Montessori School practical life skills program materials are created and prepared to meet each child's specific developmental needs. A.A.I.M.S. Montessori School focus is on the whole child. The child learns to interact in a peaceful manner. This creates a respectful, courteous, and caring child. Practical life activities lay the groundwork for success not only in the Montessori environment , but for life in general.

---
A snapshot of A.A.I.M.S. Montessori school's practical life skills program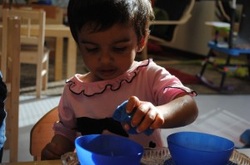 A snapshot of The preliminary practical life skills activities include how to walk, talk, carry a tray, open and close doors and drawers, open and turn pages of a book, use a sponge, and carry scissors and pencils in the classroom.
A.A.I.M.S. Montessori School practical life skills program

Care and respect for self include how to comb the hair, brush the teeth, wash hands and feet, remove mud from shoes, put on coat and winter accessories,
polish mirror and metal, arrange dishes and flower, feed a pet, set a table and fold the clothes from the laundry.

Social and grace courtesies include how to eat, apologize, make way for others, behave in outings, serve food, table manners and understand others feelings. Other activities consist of learning how to get the attention of the friends by walking to the person instead of calling out loud, sitting with legs crossed at group time, waiting for their turn to speak and being a good listener.

Fine motor skills include how to open and close locks, thread beads, sew cloth, use of tweezers, pour in different size containers and cut with scissors.

Life skills consist of how to glue with glue stick, use a stapler, follow a simple cooking recipe, measure, wash fruits and vegetables, peel potatoes, slice bananas and bread, use mortar and pestle, use rolling pin and many other such activities.

Safety skills consist of developing caution regarding play, daily activities and substances and materials that can be potentially harmful.
---